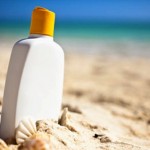 From Outside, February 21, 2019.
Supporters say the proposed regulations are over 40 years overdue and would be a major win for public health
On Thursday, the FDA announced that it is beginning a process to update regulatory requirements for sunscreen products. The proposed rules seek to bring over-the-counter sunscreen regulation into the 21st century.
"Some of the essential requirements for these preventive tools haven't been updated in decades," FDA Commissioner Scott Gottlieb said in a statement. "Today's action is an important step in the FDA's ongoing efforts to take into account modern science to ensure the safety and effectiveness of sunscreens."