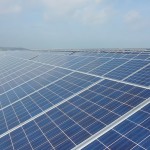 From the Milwaukee Journal Sentinel, March 19, 2019.
Another large solar power project — the third announced in less than a year — is planned for Wisconsin.
Dairyland Power Cooperative on Monday said it agreed to buy the output of a 149-megawatt solar power project planned for Jefferson County.
The project is projected to cost more than $100 million and is planned for about 1,000 acres near the Towns of Jefferson and Oakland. It would generate enough electricity for about 20,000 residences if approved by the Public Service Commission.