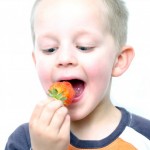 From Environmental Health News, March 20, 2019.
Annual analysis finds almost 70 percent of U.S. fruits and vegetables have pesticide residues
If you're going to buy organic, strawberries, spinach, kale, nectarines and apples might be a good place to start.
Those are the top five U.S. fruits and vegetables most tainted with pesticides, according to the annual Shopper's Guide to Pesticides in Produce report from the nonprofit Environmental Working Group.