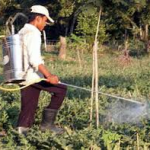 From Kaiser Health News, April 25, 2019.
Lawmakers in several states are trying to ban a widely used pesticide that the Environmental Protection Agency is fighting to keep on the market.
The pesticide, chlorpyrifos, kills insects on contact by attacking their nervous systems.
Several studies have linked prenatal exposure of chlorpyrifos to lower birth weights, lower IQs, attention deficit hyperactivity disorder and other developmental issues in children.