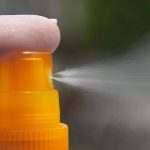 From Wired, May 6, 2019.
BY NOW, YOU'VE probably been taught to gird your sun-starved skin for battle with cancer-causing cosmic rays every time you go outside. Choose a spray, choose a lotion, but by heavens, choose something! Legions of doctors, parents, and YouTube beauty influencers are unanimous on this point. But with sunscreen application evolving from a week or two at the beach every year to a constant daily slather, US health regulators want to know more about how all those photoprotective chemicals interact with people's skin.
If they sink into tissues and get absorbed into the bloodstream, that could be a problem.