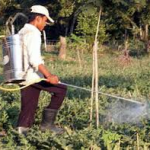 From NPR, May 13, 2019.
A California jury has awarded a couple more than $2 billion in a verdict against Monsanto, a subsidiary of Bayer. This is the third recent court decision involving claims that the company's Roundup weed killer caused cancer.
The jury in Alameda County, just east of San Francisco, ruled that the couple, Alva and Alberta Pilliod of Livermore, Calif., contracted non-Hodgkin's lymphoma because of their use of the glyphosate-based herbicide. They were each awarded $1 billion in punitive damages and an additional $55 million in collective compensatory damages.