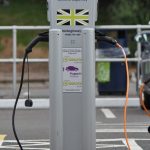 From the Wisconsin Rapids City Times, May 13, 2019.
WISCONSIN RAPIDS – Free electric vehicle charging is now available in Wisconsin Rapids, thanks to a new solar-powered car charging station on the Mid-State Technical College Rapids campus.
Construction on the site began in September 2018, with assistance from a Constellation Energy through an E2 – Energy to Educate grant. The solar array was then installed over the 2018–19 school year by Mid-State's Renewable Energy Technician students, with assistance from North Wind Renewable Energy Cooperative. The solar rack was manufactured by Sinclair Designs and Engineering, and all solar panels donated by Panasonic Solar.