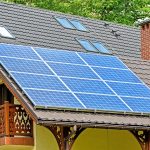 From E & E News, May 13, 2019.
Once written off as too undependable and expensive for a region where coal was still king, solar energy is being embraced by Midwest utilities at a pace once unthinkable.
Consider a map of the Midcontinent Independent System Operator's (MISO) interconnection queue, where there's almost 200 solar projects — representing about 30,000 megawatts — being developed and waiting to tie into the grid.
While just a fraction of those projects will get built, new ones will continue to populate the MISO list as utilities are proposing thousands of megawatts of solar, in part to replace old coal plants. Consumers Energy plans for more than 5,000 MW of solar over 20 years. Northern Indiana Public Service Co. is eyeing 1,500 MW in the next decade.