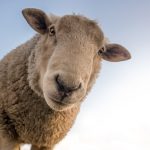 From The Country Today, May 16, 2019.
In upstate New York, Lexie Hain and Lewis Fox are growing an interesting business, capitalizing on the state's push for the use of renewable energies.
Hain and Fox are partners in Agrivoltaic Solutions LLC, a group of small to mid-size sheep farmers offering to keep solar farms working at optimal performance through grazing; they are also founding members of the American Solar Grazing Association, a nonprofit organization that promotes grazing sheep on solar installations as a service in vegetation maintenance.