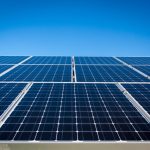 From the La Crosse Tribune, May 20, 2019.
LA FARGE — When building his house in rural Vernon County, Rob Danielson put it close to the road to limit the carbon footprint of plowing a long driveway.
He heats the super-insulated home with a masonry furnace that burns just an armload of wood each day. His freezer is on a timer, set to run when the 32 solar panels outside his super-efficient home are generating electricity. Same with his television.
His wife, Teresa Agnew, waits for sunny days to run the vacuum cleaner.