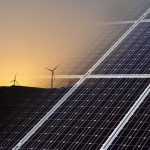 From Inside Climate News, May 20, 2019.
The American Midwest is at a turning point as it confronts the global climate crisis. It's a landscape of opportunity, where investment is starting to pour into renewable energy, farmers are turning to climate-friendly practices, and automakers are introducing new electric vehicles. But its path forward is still cluttered with obstacles.
The region is already feeling the environmental and economic tremors of climate change. It's still a rare day when Chicago's thermometers hit 100—hot enough to be deadly. But the latest science predicts that by mid-century heat waves will routinely strike the region with temperatures much hotter than was common just a few decades ago. Summers will warm faster in the Midwest than in any other American region, according to the National Climate Assessment.