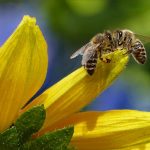 From Environmental Health News, July 11, 2019.
Farmers around the world are increasingly relying on pollinators—but not providing the crop diversity bees and other insects need to thrive
As agriculture has expanded over the last few decades, global dependence on pollinator insects has increased. But crop diversity hasn't increased nearly as much – and this disparity spells trouble for many regions, especially parts of South America and Asia, according to a new study.