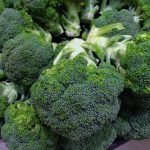 From REAP, July 16, 2019.
After two years of conversations and planning with local farmers, institutions and stakeholders, REAP's answer to getting more fresh, local produce into institutions that feed and care for all residents is off the ground.
On Monday, July 15, six employees arrived at the Madison College culinary arts kitchen for their first day washing, chopping and bagging local cauliflower and broccoli for REAP's vegetable processing initiative.