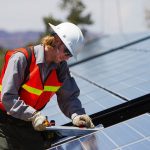 From WDJT Milwaukee, July 30, 2019.
MILWAUKEE (CBS 58) — Wisconsin is in the middle of making a historic push toward solar energy.
In the Milwaukee suburbs, solar panels are being installed on the roofs of public buildings, including New Berlin schools.
It ushers in a new era of supporting green energy for the district, and it's also a new way of making money.
"We'll be leasing our roofs and some land space to We Energies, and as a result of that we will net some revenue monthly," said Joe Garza, the school district superintendent. "Certainly those dollars will be reinvested back into our district and opportunities for our students."