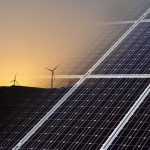 From Wisconsin Public Radio, August 9, 2019.
Two Native American tribes in Wisconsin are receiving federal grants for renewable energy projects that tribe members say will help reduce costs and lead to energy independence.
The Bad River Band of Lake Superior Chippewa in Odanah and the Forest County Potawatomi Community in Crandon are two of 12 tribes who received 14 grants from the federal Office of Indian Energy Policy and Programs worth $16 million.
"These projects will unleash sovereign Native American and Alaska Native energy development however each tribe believes is best for their community," said Mark Menezes, U.S. under secretary of energy, in a news release from the Department of Energy.