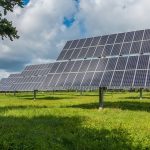 From the Wisconsin State Journal, August 10, 2019.
As Wisconsin's largest-ever solar project comes online this summer, the multi-site, multi-state partnership behind the development offers a potential model for how organizations can band together to meet clean energy goals.
The Butter Solar Project consists of 32 megawatts installed at 10 locations feeding into 13 municipal utilities in three states. A who's who of co-op grocery store shelves including Organic Valley, Dr. Bronner's and Clif Bar have signed on to buy the renewable credits along with the city of Madison.