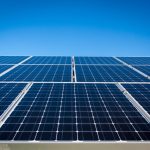 From the Wisconsin State Journal, September 5, 2019.
Dane County and Madison Gas & Electric have expanded the size of a planned solar farm at the Dane County Regional Airport that would be the largest in the county.
The 9-megawatt solar farm, expected to come online next year pending federal approval, is expected to provide about 40% of the electricity to power county-owned buildings, saving the county about $137,000 a year.