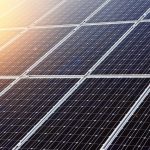 From the Wisconsin Rapids Tribune, September 9, 2019.
SARATOGA – A Kansas company is proposing a 150-megawatt solar project on 1,200 acres owned by a company that has planned a proposed mega-dairy in the town.
The solar panels for the project proposed by the company, Savion, of Lenexa, Kansas, would cover 1,200 acres of land owned by the Wysocki Family of Companies, Saratoga Town Chairman Terry Rickaby said. It is unclear how the proposed solar project would affect the 5,300-cow dairy, Rickaby said.