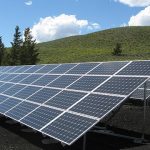 From the Wisconsin Rapids Tribune, September 26, 2019.
SARATOGA – A proposal to build a solar plant in the community could mean the town and county will share $600,000 a year in extra income.
Savion, a Kansas-based company that develops solar energy projects, is proposing a 150-megawatt solar energy plant on Saratoga land owned by the Wysocki Family of Companies. Savion has an option to purchase 1,650 acres of Wysocki property west of State 13, said Drew Gibbons, development director for Savion.