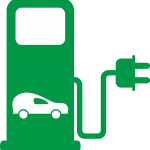 From Wisconsin State Journal, October 6, 2019.
SUN PRAIRIE — Ask Lee Gasper-Galvin about her Tesla and you'd better set aside some time. You might even find yourself behind the wheel of the Model 3.
She recalls the day last spring when she swapped her Buick Lucerne for the new electric car.
"I thought I was going to drive right up into heaven," she said. "For over 20 years I've been waiting for this moment."