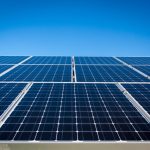 From the Wisconsin Rapids City Times, October 6, 2019.
WISCONSIN RAPIDS – The Wood County Executive Committee approved the funding for a solar array at Nepco Lake, during their Oct. 1 meeting.
The proposal was originally brought forward by the Renewable & Sustainable Committee in September, but the project was kicked back to the Highway Infrastructure & Recreation Committee (HIRC).
"The HIRC committee approved it," said Wood County Board Chair Doug Machon. "Then the Parks Director Chad Schooley was presented with two proposals by two installers on the array itself. He chose North Wind Renewable Energy.