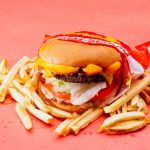 From Environmental Health News, October 9, 2019.
Dangerous PFAS chemicals show up in the bodies of people who eat takeout, fast food, and pizza often at higher levels than in people who regularly cook at home, according to a new study.
The study is the first to link certain foods and PFAS exposures in Americans and adds to mounting evidence that food packaging, especially grease-resistant boxes, wrappers, and bags used for burgers, pizza, and popcorn, is a major source of exposure to the toxics for people.