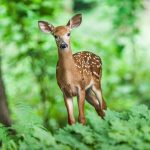 From the South Dakota News Watch, October 16,, 2019.
Facebook Twitter Google+ LinkedIn Share by E-Mail
A groundbreaking study conducted by scientists in South Dakota has found that the world's most widely used family of pesticides — neonicotinoids — is likely causing serious birth defects in white-tailed deer, deepening concerns over the chemical's potential to harm large mammals, including humans.
A subsequent study by the wildlife scientists and ecologists at South Dakota State University in Brookings will examine whether ring-necked pheasants also could be harmed by neonicotinoid pesticides, which are used heavily in agriculture across the state.
Read the article.