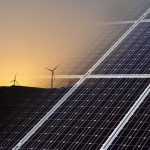 From the Wisconsin State Journal, January 5, 2020.
Minnesota and Wisconsin are similar in size and geography. They have roughly the same population and climate. Yet over the past decade, Minnesota has become a leader in clean energy, while Wisconsin remains largely dependent on fossil fuels.
The diverging approach is due in part to a slate of clean energy policies that helped spur wind and solar development in Minnesota, while "modest and outdated" policies have done little to encourage similar growth across the border, according to a recent report by an environmental law and business advocacy group.