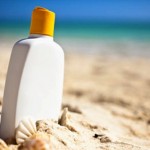 From WebMD, January 21, 2020.
New FDA testing of sunscreens shows that six common active ingredients are absorbed into the body and may linger for days or even weeks, in some cases.
What's more, the testing showed that just a single application of sunscreen — whether as a lotion or a spray — increases the blood levels of these active ingredients beyond the FDA's threshold for determining if they need more study to be considered safe for use.