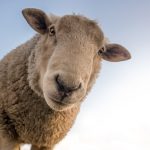 From Yes!, March 9, 2020.
Should land be used for solar panels or agriculture? The burgeoning Solar Sheep movement argues: Why not both?
Lexie Hain tucks a chunk of business cards in her back pocket before bounding up to speak to a room of 75 livestock farmers. On a rain-dumping January day, they've driven in from around New York and New England. A polite lethargy has set in by the time Hain, the final presenter, stands up, but her talk, "Solar and Sheep: The New Power Couple," jolts the crowd like a dozen diner-coffee refills.