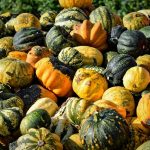 From Civil Eats, May 12, 2020.
Amid massive tracts of wheat and corn destined for global markets, some farmers are planting cover crop mixes designed to be harvested by their communities.
On a recent Thursday, a group of farmers from Oklahoma, Kansas, and Nebraska hosted a remote agriculture happy hour. There were a few dozen attendees, and nearly everyone was wearing a cowboy hat. In total, they farm more than 30,000 acres of cropland, most of it planted in soy, corn, or cotton destined for the global commodity market. The happy hour started with presentations about integrating livestock into cropping systems, but then things took a surprising turn: farmers began to discuss how they are feeding their families and communities.