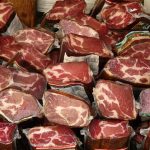 From EWG, May 14, 2020.
Counties with or near meatpacking plants have almost twice the rate of known COVID-19 infections as the national average, according to a geospatial analysis by the Environmental Working Group.
Based on cases reported by Johns Hopkins University as of May 6, EWG's analysis found that counties containing or within 15 miles of one or more meatpacking plants reported 373 COVID-19 cases per 100,000 residents. That is roughly double the U.S. average of 199 cases per 100,000 in all counties with reported cases.