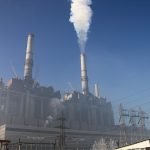 From Wired, May 26, 2020.
Researchers find that areas with high levels of airborne dust or toxic chemicals also have more deaths from the coronavirus.
AIR IS POLITICAL. Research indicates race is the biggest predictor of whether a person lives near a heavily polluted area. Covid-19 is especially lethal for patients with respiratory problems.
Now researchers are studying whether air pollution makes Covid-19 illnesses more severe. They are especially concerned with so-called sacrifice zones, areas with pervasive exposure to toxic emissions.