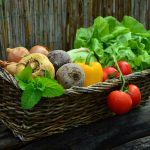 From Bloomberg CityLab, July 20, 2020.
From grocery stores and online delivery to farms and restaurants, how and where we get our food may never look the same.
If the early days of grocery shopping during coronavirus are remembered for empty shelves and flour hoarding, our present-day food system might be characterized by lines. Lines are a symbol of the burdens of the pandemic, as more people wind down blocks waiting for food aid. They're also a sign of our adaptation, with socially distanced queues of people waiting to enter stores, and separate check-outs for delivery workers buying groceries on behalf of somebody else.