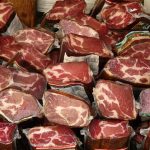 From the Milwaukee Journal Sentinel, August 3, 2020.
For three years, Alberto Martínez worked at Calumet Diversified Meats in Pleasant Prairie, often putting in 12-hour days and setting aside $160 a week to help put his daughter through college.
When the pandemic swept the nation in late March, Wisconsin went into lockdown. But Martínez, like thousands of other meatpacking employees, kept reporting to work. He was considered essential.
Three weeks later, on April 15, he died of COVID-19.