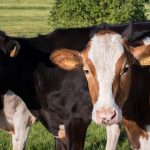 From the Wisconsin Farmer's Union, August 3, 2020.
Rachel Henderson raises pastured hogs, sheep and poultry at Mary Dirty Face Farm in Dunn County. The animals complement her family's organic orchard and are a growing enterprise on the farm, particularly as interest in locally grown food has risen amid COVID-19 concerns.
Though the farm offers the space to expand their livestock ventures, the family has hit a stumbling block in growing that portion of their business — a lack of local meat processing capacity.
.