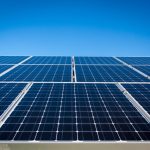 From WAOW.com, August 6, 2020.
STEVENS POINT, Wis (WAOW) — Mid-State's Renewable Energy Technician students recently got hands-on experience delivering solar energy to the College's Stevens Point Campus.
The students installed 135 solar panels on the roof of the downtown Stevens Point campus, an array that will produce almost 50,000 watts of power on a sunny day and supply approximately 15 percent of the campus's energy usage.