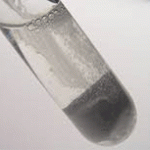 From MPR News, August 31, 2020.
Don Tschida grows corn, beans and small grain on land that his father and grandfather farmed before him. On his central Minnesota farm, he also raises a small herd of beef cattle and two barns of broiler chickens.
There's been plenty of rain this summer, and the corn stands tall and green. But when Tschida digs down beneath a layer of topsoil, the earth is coarse and sandy.