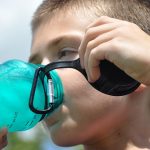 From WNPR, September 15, 2020.
A recent report finds the vast majority of public water supplies are meeting standards for safe drinking water. But lawmakers and environmental advocates say more needs to be done to protect Wisconsin's drinking water.
The 2019 annual drinking water report released Monday found more than 99 percent of the state's 11,525 public water systems met federal standards last year under the Safe Drinking Water Act, said Steve Elmore, director of the Bureau of Drinking Water and Groundwater at the Wisconsin Department of Natural Resources.