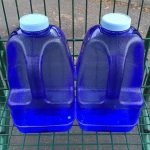 From Consumer Reports, September 15, 2020.
Aging infrastructure, legacy pollution, and emerging contaminants bring an urgent focus to the quality of the water we drink
Once a week, Florencia Ramos makes a special trip to the R-N Market in Lindsay, Calif. "If you don't have clean water, you have to go get some," says Ramos, a farmworker and mother of four who lives in the neighboring Central Valley town of El Rancho.
She has been purchasing jugs of water at the small store for more than a decade. At first, she was concerned that the county well water that flowed through her tap contained high levels of nitrate, a pervasive health hazard across rural U.S., where nitrogen-rich fertilizer and livestock manure seeped into groundwater. While it never tasted bad, she recalls her water service provider instructing her not to drink it.