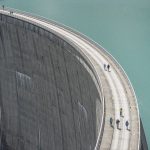 From the New York Times, October 13, 2020.
Facing a climate crisis, environmental groups and industry agree to work together to bolster hydropower while reducing harm from dams.
WASHINGTON — The industry that operates America's hydroelectric dams and several environmental groups announced an unusual agreement Tuesday to work together to get more clean energy from hydropower while reducing the environmental harm from dams, in a sign that the threat of climate change is spurring both sides to rethink their decades-long battle over a large but contentious source of renewable power.