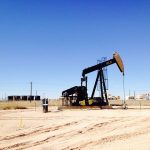 From Consumer Reports, December 3, 2020.
The oil and gas extraction technique threatens water in North Dakota and elsewhere, but activists are fighting back
Lisa Finley-DeVille started drinking bottled water around the same time her friend's horses began to get sick and die. A half decade ago on the Fort Berthold Indian Reservation in western North Dakota, Finley-DeVille drove up to see her friend in the New Town area. The horses looked dehydrated and brittle, just skin and bones. They're eating, but it's like they're not eating, her friend told her.
.