You are viewing information about a past event.
Event Information
Date:
December 10th, 2019
Time:
11:00am - 1:00pm
Contact:
Chelsea Wunnicke, Family Living Educator
Phone:
608.647.6148
Email:
Learn and Connect with others in the Richland County farming community.
All sessions are FREE and open to anyone. Lunch provided.  For more information, please visit Stronger Together:  Gathering Community for Farming in Challenging Times.
December 10: Save, Fix or Invest? Paul Dietman (Compeer Financial & co-author of Fearless Farm Finances)  will discuss how to make financial decisions for your farm future.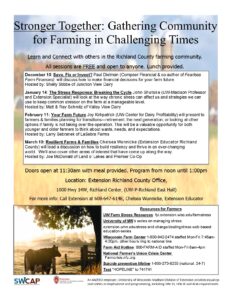 Hosted by: Shelly Stibbe of Junction View Dairy
January 14: The Stress Response: Breaking the Cycle John Shutske (UW-Madison Professor and Extension Specialist) will look at the way chronic stress can affect us and strategies we can use to keep common stressor on the farm at a manageable level.
Hosted by: Matt & Ray Schmitz of Valley View Dairy
February 11: Your Farm Future Joy Kirkpatrick (UW-Center for Dairy Profitability) will present to farmers & families planning for transitions—retirement, the next generation, or looking at other   options if family is not taking over the operation. This will be a valuable opportunity for both   younger and older farmers to think about wants, needs, and expectations.
Hosted by: Larry Sebranek of LaSebra Farms
March 10: Resilient Farms & Families Chelsea Wunnicke (Extension Educator Richland County) will lead a discussion on how to build resiliency and thrive in an ever-changing world.  We'll also cover other areas of interest that have come up along the way.
Hosted by: Joe McDonald of Land o' Lakes and Premier Co-Op
Event Location
Extension Richland County
1000 Hwy 14W
Richland Center, WI