THE CONTEST WILL BE ON SATURDAY FEBRUARY 3, 2018!!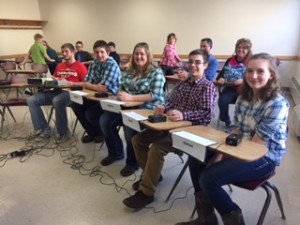 Competition in the 4-H Dairy Bowl encourages a 4-H member to develop a more complete knowledge of dairy animals and related subjects.  This contest provides an educational dairy program for all dairy project members, including those who may not own a dairy project animal, and provides a way to develop alertness and self-confidence.
The Dairy Bowl is a "quiz bowl" competition where all questions deal with dairy topics.  Teams of four members compete with each other in giving oral answers to questions posed by a moderator.  Teams receive points for correct answers and may lose points for incorrect answers.  The team with the highest final score is the winner.
The contest is organized on a double elimination basis with winning teams advancing into further rounds until a champion team emerges.
Sources of questions are 4-H dairy project literature, Hoard's Dairyman publications and other dairy resources identified within the references section of this document.  The Wisconsin 4-H Dairy Bowl rules are as follows:
2018 WI 4H Dairy Bowl Contest Rules
2018 WI 4-H Dairy Quiz Bowl Electronic Entry Form
Please fill out this electronic entry form for your team(s) if possible.  This saves time at our office and helps to prevent incorrect information from accidentally being entered.  Also, if you fill out this electronic form you do not need to send a printed copy in with your registration fees.  But please indicate either in the check memo or on a separate piece of paper which county and teams the check is being submitted for.  Thank you.