The 2020 Dane County Fair is cancelled. What will you miss most?
IF IT'S LOADED BAKED POTATOES FROM THE DANE COUNTY 4-H POTATO STAND, WE HAVE A SOLUTION!
JOIN US FOR THE
"2020 BAKED POTATO CHALLENGE!"
July 15-26, 2020
Make a baked potato at home, load the potatoes with your favorite ingredients, and upload a picture of your loaded baked potato.  Impress us with your creations and you could win a prize – the categories include: pork lovers potato, most artistic potato, best use of dairy products potato, and other potatorific categories.
Cooking instructions for a large potato:
Oven–wash and wrap your potato in foil.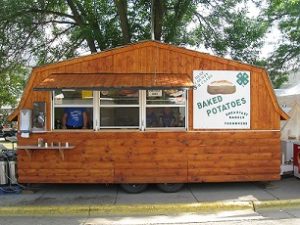 Place in 400 degree pre-heated oven.
Cook for 45 minutes-1 hour; until knife goes in easily.
OR
Microwave–wash potato and prick with fork tines.
Place on plate.
Cook on high for 5 minutes.
Turn over and cook for another 5 minutes.
Slice open, fluff the inside, and load with favorite toppings.
The Dane County 4-H Potato Stand uses all real items:  butter, cheddar cheese, onions, bacon and sour cream.
Upload a picture of your potato
Visit these websites to learn more about potatoes and toppings:
Wisconsin Potato and Vegetable Growers Association
Wisconsin Pork Association
Dairy Farmers of Wisconsin
Each year the potato stand/ice cream stand is set up by a committee of adult 4-H volunteers.  Dane County 4-H youth sign up for shifts to run the stand and prepare potatoes to order for the fair goers.
The proceeds from the stand fund education scholarships and program financial assistance distributed by the Dane County 4-H Leaders Association.  The education scholarships are awarded based on 4-H participation, leadership, and community service.  Up to twelve scholarships are awarded each year; each scholarship is $1,000.
Interested in supporting 4-H? Without the Dane County Fair, we have lost our sole fundraiser for the scholarship program.  If you are able to offer us financial support, donate to 4-H online or send a check to Dane County 4-H, 5201 Fen Oak Drive, Suite 138, Madison, WI 53718.