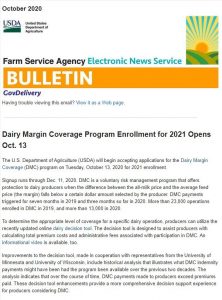 The U.S. Department of Agriculture (USDA) has begun accepting applications for the Dairy Margin Coverage (DMC) program on Tuesday, October 13, 2020 for 2021 enrollment. Signup runs through Dec. 11, 2020.
Producers can utilize an online dairy decision tool to determine the appropriate level of coverage for their specific dairy operation. The decision tool is designed to assist producers with calculating total premium costs and administrative fees associated with participation in DMC. An informational video is available, too.
More information is available from USDA at https://www.fsa.usda.gov/programs-and-services/farm-bill/farm-safety-net/dairy-programs.