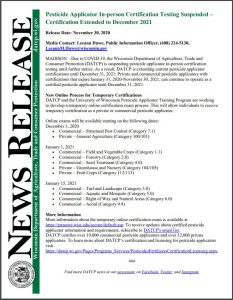 Due to COVID-19, the Wisconsin Department of Agriculture, Trade and Consumer Protection (DATCP) is suspending pesticide applicator in-person certification testing until further notice. As a result, DATCP is extending current pesticide applicator certifications until December 31, 2021. Private and commercial pesticide applicators with certifications that expire January 31, 2020-November 30, 2021, can continue to operate as a certified pesticide applicator until December 31, 2021.
See DATCP's official news release here: DATCP news release
Additionally DATCP and the University of Wisconsin Pesticide Applicator Training Program are working to develop a temporary online certification exam process. This will allow individuals to receive temporary certification as a private or commercial pesticide applicator.
More information about the temporary online certification exam is available at: https://patstore.wisc.edu/secure/default.asp
To receive updates about certified pesticide applicator information and requirements, subscribe to DATCP's email list.
To learn more about DATCP's certification and licensing for pesticide applicators visit: https://datcp.wi.gov/Pages/Programs_Services/PesticidesFertilizersCertificationLicensing.aspx