You are viewing information about a past event.
Event Information
Date:
August 29th, 2018
Time:
3:00pm - 5:00pm
Cost:
Free. Register by Monday 8/27
Contact:
Claire Strader
Phone:
608-224-3710
Email: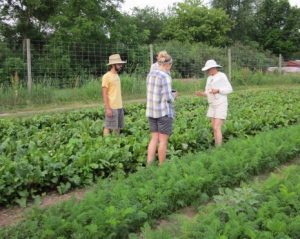 Skilled farmworkers are an asset to any farm. Yet, experienced staff who return year-after-year are not as common as farmers might like. In Wisconsin, a new Organic Vegetable Farm Manager Registered Apprenticeship will create a pathway for farmers to train and retain skilled workers for WI farms. Twelve established farmers designed the program with the help of the WI Department of Workforce Development, FairShare, UW Madison, and UW Extension. This launch event will introduce farmers to the program, provide information on how to get involved, celebrate the first farmer/apprentice pair, and feature a tour of Fazenda Boa Terra focused on labor efficiencies. Please click RSVP for free registration by Monday, August 27th.
Event Location
6580 WI-23, Spring Green, WI 53588