Private Pesticide Applicator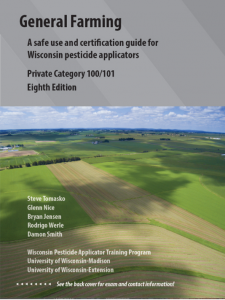 The Wisconsin Department of Agriculture, Trade and Consumer Protection (DATCP) is suspending pesticide certification testing as of March 18, 2020. Exams scheduled on and after March 18, 2020,​ are canceled.
If you have scheduled a certification exam do not go to the testing location.
If your certification expires January 31-May 31, 2020, DATCP is extending your certification until June 30, 2020. You can continue to operate as a certified applicator until June 30, 2020.
New applicators who are eligible can submit a 30-Day Temporary Trainee Registration Form to work under the supervision of a certified applicator. The 30-day limit will be extended until June 30, 2020, for all temporary registration applications received March 18-June 1, 2020.
Pesticide applicator testing will resume at a future date. To receive updates about certified pesticide applicator information and requirements, subscribe to DATCP's email list​.
For more information visit DATCP site here: Pesticide Applicator Certification Testing Temporarily Suspended 
---
The Wisconsin Department of Agriculture, Trade and Consumer Protection (DATCP)
DATCP enforces the pesticide laws in Wisconsin.  DATCP also writes and administers the certification exams and grants certification. DATCP also issues individual pesticide applicator and pesticide application business licenses in the state.
Contact DATCP for questions about certification, licensing, scheduling an exam, exam scores, or issues of pesticide regulations.
Pesticide Certification & Licensing program
Phone: 608-224-4548
Website: Bureau of Agrichemical Management
Email: datcppesticideinfo@wi.gov for questions regarding Pesticide Certification and Licensing
---
Dane County Pesticide Applicator Training (PAT)
Dane County Extension staff are working remotely in accordance with guidance from state and local agencies in addition to our connection to UW-Madison. The latest health guidance on responding to the COVID-19 virus is "flattening the curve" or limiting the spread of the virus via protective measures. We are following best practices and the latest policy guidelines to promote health and safety.
Contact Chelsea Zegler at 608-224-3716 or zegler.chelsea@countyofdane.com with questions about getting training materials, or any other questions or concerns you have.