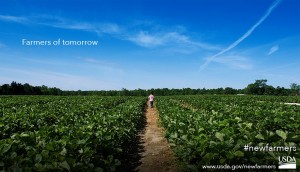 On June 23rd, the USDA announced its continued commitment to the future of agriculture by unveiling www.usda.gov/newfarmers, a one-stop shop for new and beginning farmers entering agriculture. It's a practical, workable tool that will help farmers and ranchers of tomorrow tap into the range of USDA resources. This website features direct links to USDA programs and services, as well as case studies about how USDA support is being put to work to for America's agriculture future.
"The average age of an American farmer is 58 and rising, so we must help new farmers get started if America is going to continue feeding the world and maintain a strong agriculture economy. "
Read the USDA's press release and share the news of this resource with young or new farmers in your life. The National Young Farmers Coalition also provides beginning farmers with helpful resources and networks.
"Learn about what USDA has to offer the next generation of farmers. Use #newfarmers to support America's farmers and ranchers of tomorrow. "