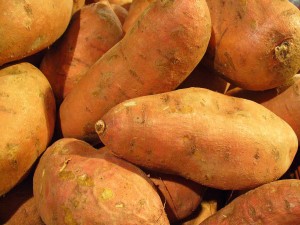 Sweet potatoes are one of my favorite foods. You can bake, fry, mash, stir fry and even make pie with them. They are versatile, store well and full of nutrients. So what's not to love? But that is not the only reason I am going to raise them in my garden this summer as part of the Dane County Sweet Potato project. The more important reason is to donate half of them to an area food pantry so others can enjoy them as well.
As the economy has improved not everyone has benefited to the same degree. There are families in Dane County who are food insecure – lacking reliable access to a sufficient quantity of affordable, nutritious food. The percentage of people living in poverty is almost 14% in Dane County.  Once rent, utilities, transportation and other living expenses are paid there often isn't enough left to cover food so many families are left to rely on food pantries to help get through the month. Having fresh, nutritious food available in the pantries is important and pantry directors have told us that people are happy to have access to the sweet potatoes.
To learn more about food insecurity visit the Wisconsin Food Security Project.
I have been gardening for a long time and every year I strive to get better. Sweet potatoes are one of the crops where I have room for improvement. So I plan to follow John Binkley's (Equinox Farm) suggestions in the video and the presentation that John and Joe Muellenberg, UW-Extension Horticulture Program Coordinator, have posted on the Dane County Sweet Potato project website.
You can participate in the Dane County Sweet potato project by ordering slips to plant, grow and donate half of your harvest to an area pantry or you can make a donation to help cover the cost of the slips and we will get others to grow them. Either way you will be making difference in our community. We are fortunate in Dane County to be surrounded by rich farmland, great farmers and gardeners, and some of the best food in the country. This project is just one small way we can help make sure everyone has access to nutritious locally grown food.
If you have questions about the Dane County Sweet Potato project or would like to make a donation, contact Alissa Schmitz, AmeriCorps VISTA in the Dane County UW-Extension office. She is coordinating the project for us this year.