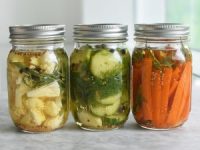 The University of Wisconsin Division of Extension is holding a virtual training for small businesses involved in canning sauces, pickles, or dressings.
Monday, November 16, 2020 7:45 am – November 17, 2020, 3:00 pm
Advanced registration is required. A training agenda and link to online registration is here.
The Wisconsin Small Business Better Process Control School meets the licensing requirement for small businesses (sales under $25,000 annually) who process and package acid, acidified, or exempt 'canned' food products such as jams and jellies, salsas and pickles, and sauces and spreads. Operators processing acid or exempt foods should complete this training to meet FDA requirements under the Food Safety Modernization Act (21 CFR 117.4). This course also meets the Wisconsin licensing requirement for training for small businesses manufacturing acidified foods (pickles, spreads, dressings, and salsa) under 21 CFR 114. Food manufactured under a food processing plant license from the Wisconsin Department of Agriculture, Trade, and Consumer Protection (DATCP) may be sold at any location within the state and across state lines. Internet sales are also allowed under a food processing license from DATCP.
For more information and to register visit: Wisconsin Small Business Better Process Control School
Any questions about this training should be directed to Dr. Barbara Ingham, University of Wisconsin, at 608-263-7383 or email to bhingham@wisc.edu.