Celebrating Food
Through Our Senses
We are excited to partner with the "Our Madison through My Senses" program to plan a Food Day Celebration for the afternoon of  Sunday, October 25th.  This year's event, Celebrating Food Through Our Senses,  will highlight the foods, cultures, and stories within our community. The celebration will be held at the Badger Rock Neighborhood Center, 501 E. Badger Rd. (corner of E. Badger and Rimrock). This is a free event and open to all! The annual Food Summit reaches a wide audience of community members, farmers, activists, restaurateurs, community gardeners, educators, processors, entrepreneurs and organizations engaged in building a sustainable and equitable local food system.
Festivities at Celebrating Food Through Our Senses will include:
Food tastings from neighbors, community members of South Madison, and local food businesses– featuring 5 guest chefs from the community!
Fitness classes from Phitness Plus
Active Living Places demonstration hosted by Capital Area Regional Planning Commission
A Dane County food system resource fair
Art installation, kids' activities, live music and more!
Our Madison Through My Senses is a new experience led by Centro Hispano, Center for Resilient Cities, and Sustain Dane, with a goal to open spaces where community members from Madison's South Side neighborhoods can gather and voice common goals and share their stories in an effort to work together for stronger, healthier, and more united neighborhoods.
We are excited for the Our Madison Through My Senses partnership to join the Dane County Food Council, Dane County UW Extension, and the City of Madison Food Policy Council to host our Food Day celebration this year.
RSVP and invite your friends to our Food Day Facebook event and with the Eventbrite link below!
Please contact Lexa Dundore by email or phone at (608) 224-3696 with any questions.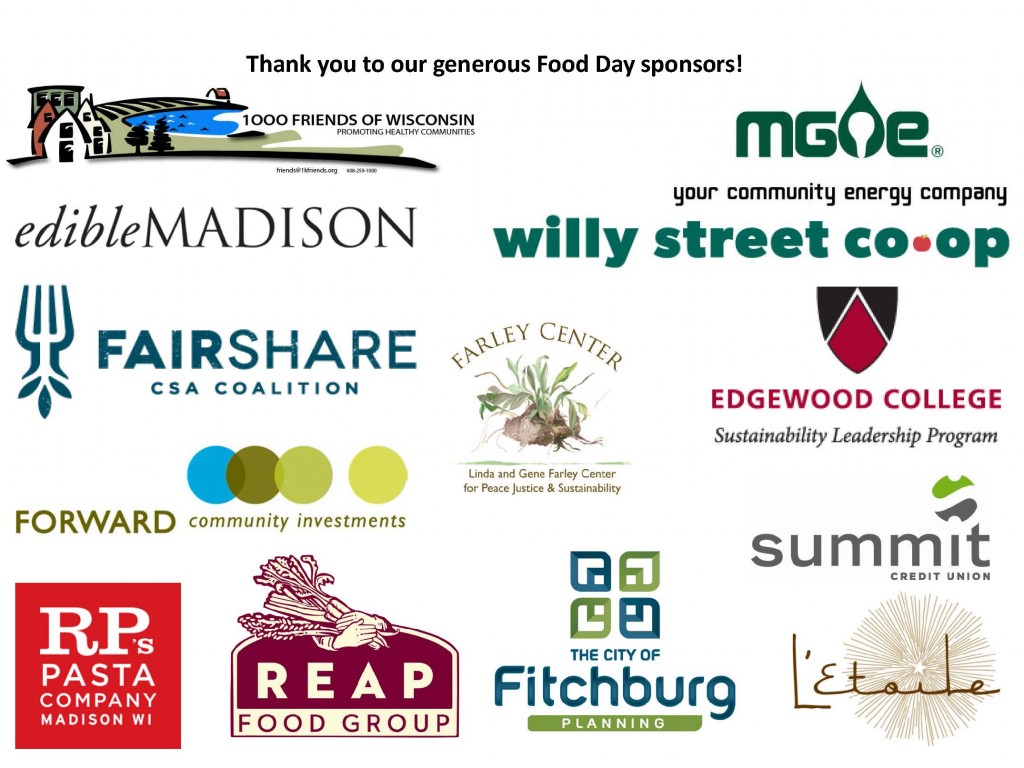 ---
Read the 2014 Food Summit Summary here.
Thank you to everyone who attended, sponsored, and donated to the 2014 Food Summit!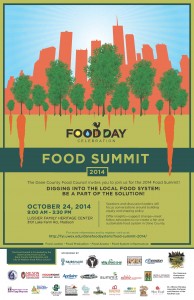 2014 Sponsors:
FairShare CSA Coalition
NessAlla Kombucha
Willy Street Co-Op
Community and Regional Food Systems Project
Nelson Institute for Environmental Studies
Food Fight Restaurant Group
Aprilaire
Paradigm Gardens
Summit Credit Union
Edible Madison
Center for Integrated Agricultural Systems
Bob's Copy Shop
Dane County Farmers' Market
Center for Resilient Cities
FEED Kitchens
Madison Eats
Madison Area Permaculture Guild
Badgerland Financial
Forward Community Investments
the Silly Yak Bakery and Bread Barn
Slow Food Madison
Dr. Alfonso Morales, Associate Professor and Director of the Kaufman Lab
Our Generous Anonymous Donor
And many thanks to our hosts: Dane County UW Extension, Dane County Food Council, and the City of Madison Food Policy Council!