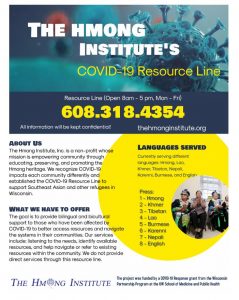 Dane County Extension would like to share this resource from our friends at the Hmong Institute: COVID 19 Resource line.
This resource line is set up to close the language barrier gap and provide bilingual and bicultural support to support Southeast Asian and other refugees in Wisconsin affected by COVID-19 to better access resources and navigate the systems in their communities.
Please share this information widely with your networks to help support our Southeast Asian and refugee communities.
Access flyers in the following languages here:
This project was funded through a COVID-19 Response grant from the Wisconsin Partnership Program at the UW School of Medicine and Public Health